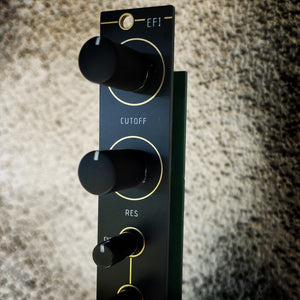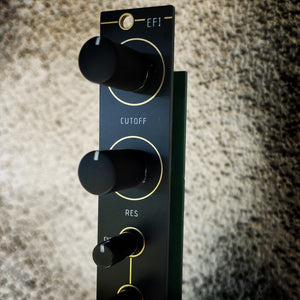 EFI - Dual-Mode Analog MS-20 Style Filter
FREE DOMESTIC SHIPPING ON ORDERS OVER $199
NO TAX ON ORDERS FROM STATES OUTSIDE CALIFORNIA
EFI is an analog multi-mode filter that is loosely based on the Korg MS-20 filter, but has been improved to fit into a 4 HP module.
It has a Low Pass and High Pass Mode which you may choose via Switch on the front panel. Additionally there are two CV inputs with an attenuator each.
Resonance can self-oscillate and there is a third mode that you may choose via jumper on the back. In this mode Resonance will be overdriven very quickly in Low Pass Mode and you will get some nice liquid sounding overtones.
Details:
• Analog Dual-Mode-Filter
• Filter Modes: LP, HP (+ LP Overdrive via Jumper)
• Resonance Control
• Two CV Inputs
• Two CV Attenuators
• Wrong Polarity Protection
• 3U Eurorack module, 4 HP wide