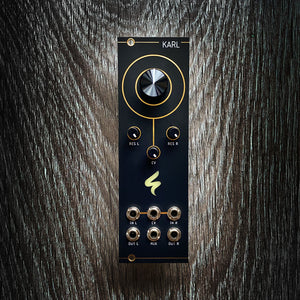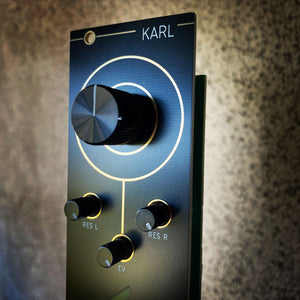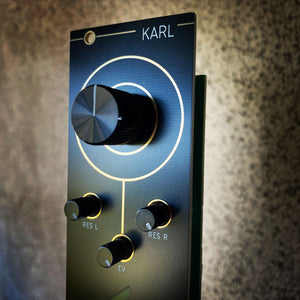 Karl - Multi-Mode Stereo Filter
FREE DOMESTIC SHIPPING ON ORDERS OVER $199
NO TAX ON ORDERS FROM STATES OUTSIDE CALIFORNIA
Karl is an analog multi-mode filter that is loosely based on the KORG MS-10 and MS-20 filters, but has been improved to handle two mono or one stereo audio source. The Resonance can still be varied independently per channel, which is very interesting when using two different audio sources at once. If you want to merge the two audio sources there is a Mix Out next to the two independent outputs per channel.
Karl has four modes:

• Low Pass Mode: Classic Analog Low Pass Filter
• High Pass Mode: Classic Analog High Pass Filter
• Phaser Mode: A small band of frequencies is filtered next to the original signal being passed through
• Overdrive Mode: If Resonance is increased the filter will quickly jump to overdrive, which creates some nice Harmonics
The Modes may be changed via jumpers on the back of the module.
In any mode the Cutoff Frequency may be changed via CV. The CV signal can be attenuated with the CV potentiometer.
Details:
• Analog Dual/Stereo-Filter
• 4 Filter Modes: LP, HP, Phaser and Overdrive
• Independent Resonance Control
• Mix two Mono Signals
• Mono to Stereo Converter
• CV Control over Cutoff Frequency
• CV Attenuator
• Wrong Polarity Protection
EXPANDER AVAILABLE - https://calsynth.com/products/karl-mode-selector-expander-for-karl-stereo-filter