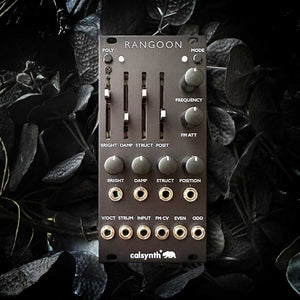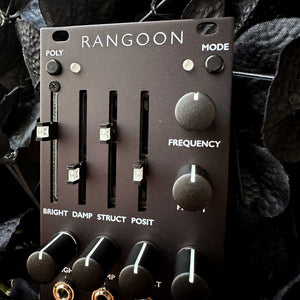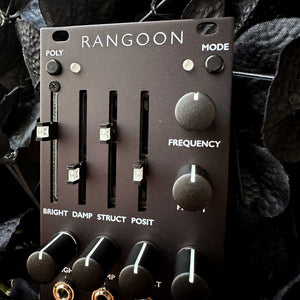 Rangoon - Mutable Rings clone with sliders - Matte Black Aluminum
FREE DOMESTIC SHIPPING ON ORDERS OVER $199
NO TAX ON ORDERS FROM STATES OUTSIDE CALIFORNIA
NOW FEATURING A HIGH-QUALITY BLACK ALUMINUM PANEL

Rangoon is a 12hp clone of the venerable Rings module - resonating with one, two or four-voice polyphony in one of 3 modes, Modal, Sympathetic and Modulated/inharmonic.
Three resonator models
Modal resonator, as used in Elements.
Sympathetic strings, modelled by a network of comb filters.
String with non-linearity/dispersion (comb filter with multimode filter and non-linearities in the loop).
All resonator models can be used polyphonically, with 1, 2 or 4 polyphony voices.
Voltage-controlled resonator
Each model provides a unified set of parameters, all voltage controlled, with an attenuverter:
Structure. With the modal and non-linear string models, controls the inharmonicity of the spectrum (which directly impacts the perceived "material"). With the sympathetic strings model, controls the intervals between strings.
Brightness. Specifies the brightness and richness of the spectrum.
Damping. Controls the damping rate of the sound, from 100ms to 10s.
Position. Specifies at which point the structure is excited.
Easy to patch
Audio input accepting modular level signals, up to 16 Vpp.
Two audio outputs, either splitting odd/even partials in monophonic mode, or even/odd notes in polyphonic mode.
Voltage change detector on the V/O input, allocating a new polyphony voice each time a different note is played.
Internal exciter triggered by the

 

STRUM

 

input (filtered pulse or noise burst), allowing the module to be used without an external excitation source.

Comes with a power cable, rack screws and a 2-year warranty.