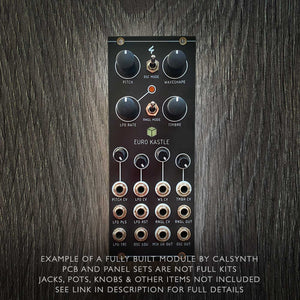 EUROKASTLE DIY - POPULATED PCB/PANEL SET
FREE DOMESTIC SHIPPING ON ORDERS OVER $199
NO TAX ON ORDERS FROM STATES OUTSIDE CALIFORNIA
THIS IS A POPULATED PCB AND PANEL SET - ALL SMD (SURFACE MOUNT) PARTS ARE ALREADY INSTALLED - YOU WILL NEED TO BUY OTHER ITEMS TO COMPLETE THE BUILD, LIKE POTS, JACKS AND KNOBS - REQUIRED ADDITIONAL ITEMS (CLICK HERE) - KNOBS ARE NOT ON THE BOMS - YOU WILL NEED TO SUPPLY THEM
INCLUDES PRE-FLASHED LFO AND VCO CHIPS
EURO KASTLE 1.5 is a 10 HP Eurorack version of the Bastl Instruments Kastle Synth.
It has all the functionality of the Kastle 1.5 with some tiny amendments to fit the Eurorack format. OSC mode and Rungler mode may be changed via switch instead of patching cables and you only have one input/output per functionality instead of 2 or 3 on the desktop synth. It also has a Waveshape CV attenuator.
The Kastle has a unique digital lo-fi sound, and it can be melodic, rhythmic, as well as very noisy and droning, soft or harsh. It was designed to be fun on its own, but it thrives the most in an ecosystem of other modular gear.
The oscillator section has 3 sound parameters: PITCH, TIMBRE, and WAVESHAPE – all under voltage control, offering 6 different synthesis modes. It has a main output and a secondary waveform output. Both can be used independently or in combination. The 3 synthesis modes available through the main output are: phase modulation, noise mode, and track & hold modulation. There are 3 more modes on the secondary OSC output: phase distortion, tonal noise mode, and formant synthesis. Each mode utilizes one or two oscillators. The PITCH parameter controls the main oscillator, the TIMBRE sets the PITCH of the modulating oscillator, and the WAVESHAPE depends on the synthesis mode.