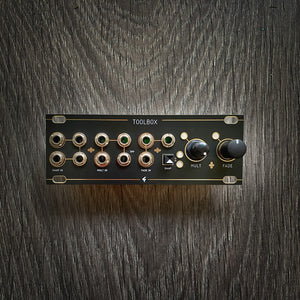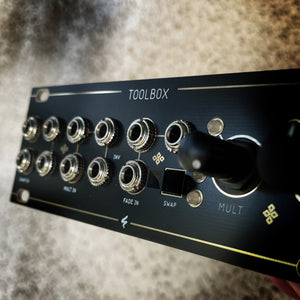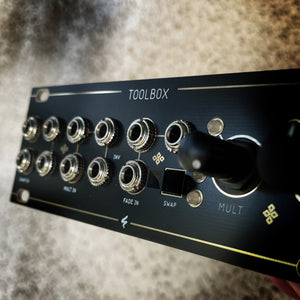 TOOLBOX 1U - MULTI UTILITY
FREE DOMESTIC SHIPPING ON ORDERS OVER $199
NO TAX ON ORDERS FROM STATES OUTSIDE CALIFORNIA
Multiple Utilities, packed in a 22hp 1U module:
• Fader
• 2-Channel Mixer
• Swap (exchange the destination of one or two sources via switch)
• On/Off Switch
• Attenuverter (unipolar/bipolar via switch)
• 1 to 3 Buffered Multiple
• Inverter
• Volume Control
...and any combination of these as the Fade inputs are normalized to Swap and the 1 to 3 Attenuverter/Multiple/Inverter. You can use it for audio as well as for CV signals. Pots and Switch are located on the bottom side for for easy use in table top cases.
Details:
• 8 Functions in 1 Module
• Combine Functions via Normalization of Inputs
• Table Top Case friendly
• Wrong polarity protection