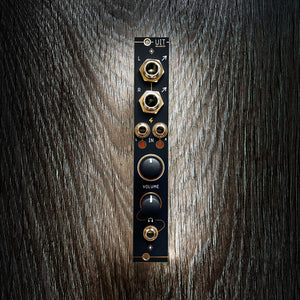 UIT - Balanced Output and Headphone module
FREE DOMESTIC SHIPPING ON ORDERS OVER $199
NO TAX ON ORDERS FROM STATES OUTSIDE CALIFORNIA
UIT is an output and headphone module that supplies balanced outputs to drive long cable connections to your mixer, interface or other equipment.

This module offers two TRS 1/4 inch (6.3mm) jacks that provide the BALANCED OUTPUT signal and a TRS 3.5mm HEADPHONE OUTPUT. Both have dedicated VOLUME potentiometers with +6dB gain.
Two LEDs indicate the level of both incoming signals. The left input is normalized to the right input if there is no signal present. The outputs are protected against unwanted phantom power voltages.
UIT is designed to be the last module in your modular chain and connects the modular world with any other studio or stage input equipment.
Details:
• TRS Balanced Output
• Low Noise and Low Distortion
• Headphone Output
• Volume Control
• Phantom Power Protection
• Wrong polarity protection